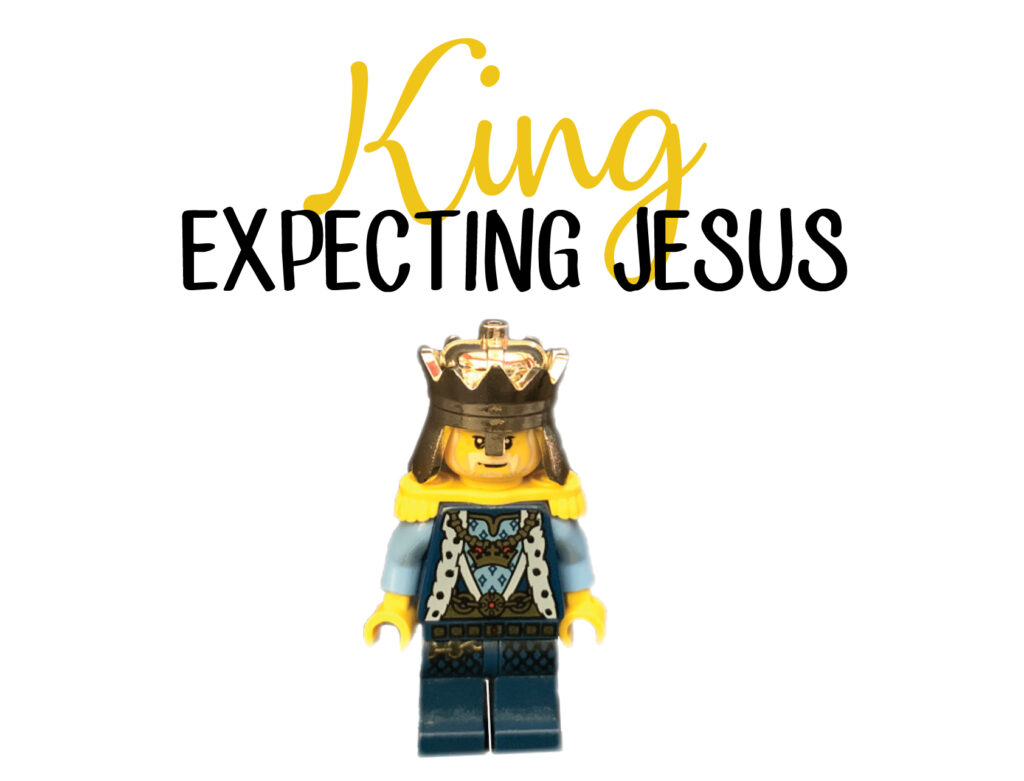 What are you expecting for Christmas?
At Christmastime long ago, believers were expecting Jesus to come. The Bible teaches us that we should also be expecting Jesus to come again!
When Pilate asked Jesus if He was a king, Jesus answered,
"You say that I am a king and you are right. I was born for that purpose."

John 18:37b (NLT)
We love thinking about Baby Jesus, but we can't leave Him in a manger! Baby Jesus grew up and lived an amazing and sinless life. He died for us, rose from the dead, and ascended to heaven. Do you know what Jesus is going to do next? He is coming back to this earth as King of kings!
Revelation 14:14 tells us Jesus is coming again with a gold crown on His head.
When you sing Joy To the World, don't forget the last verse!
🎵He rules the world with truth and grace, And makes the nations prove the glories of His righteousness, and wonders of His love!👑❤️🎵
And one of my FAVORITE songs we sang this Christmas is KING OF GLORY! I hope to have our version here soon! … If you are like me and just want to sing it today – CLICK HERE! 🎵 Let's start right now & SING HALLELUJAH until He COMES AGAIN!🎵🙌 HE is our KING of power, our KING of healing, the KING of our JOY, & the KING of our PEACE …….

Are you ready for the ROYAL party?👑🎂🎉
Bake a cake for Jesus today!🎂 HE IS THE KING OF OUR CHRISTMAS! Just as expectant as we are for tomorrow – we should be for when Jesus comes AGAIN!!! 👑🎉
The Christ of Christmas (Past – Present – Future)
The entire Bible is full of expectation of Jesus coming AGAIN! From Genesis to Revelation! Jesus Himself talked about it 21 times in the New Testament! The first time He came as a baby in a manger – only those few got to witness the birthday! When He comes again … EVERYONE will see Him! THIS is the HOPE of Christmas! That He came for us and is COMING AGAIN! May our hearts be ready to RECEIVE OUR KING!!