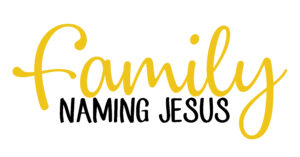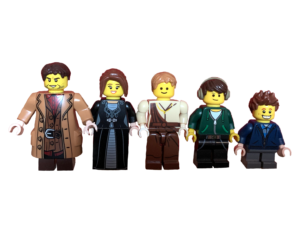 "You will become pregnant, give birth to a son, and name Him Jesus."

Luke 1:31 (GWT)
"And she will have a son, and you are to name Him Jesus, for He will save His people from their sins."

Matthew 1:21 (NLT)
"A child is born to us, a son is given to us, and authority will be on his shoulders. He will be named Wonderful Counselor, Mighty God, Eternal Father, Prince of Peace."

Isaiah 9:6 (CEB)
An angel told the mom and the dad 👉 You shall name Him JESUS for He will SAVE us from our sins.
Jesus means: TO SAVE, TO DELIVER, TO RESCUE.
If you just need to remember what a POWERFUL Name it is – the Name of JESUS … the Name above all Names … this is a great song!🎵
God named His Son! What does your name mean?
Enjoy a family meal today and talk about what each of your names mean! If you don't know, google it or look it up here!
Adrien made a LEGO® that represents everyone in our family. We just may be new additions to the Nativity this year and get to experience the birthday with the family and worship with the shepherds!
Consider putting a family picture near your Nativity! Our LEGO® family will be the first ones to "Bethlehem" as we anticipate His "coming"!

Do you need a *Counselor, a Prince of Peace?
*We do have a Wonderful Counselor. We also have an amazing team of counselors at Evangel. You can email them anytime and follow my friend on Instagram!
PEACE has been my word for 2019! If peace is something that has been a challenge to have in your life or in your home, or wherever you go, I encourage you to make it your "word". By simply focusing on peace and looking for this word in the Bible, it's amazing what a difference it has made in my life.
"Come to me, all you who are struggling hard and carrying heavy loads, and I will give you rest."

Matthew 11:28 (CEB)
Matthew 11 promises peace – all we have to do is come to Jesus. Peace isn't a feeling, it's not even those precious moments of calm after a hectic day. Peace is a PERSON. The Prince of Peace can go with you even in the worst situation. Don't let Him be the missing "PEACE" in your life!

(This is for my fellow musicians! I have to include a Christmas CHOIR CLASSIC! as in classical – written in 1741 & in less time than our 25-day Countdown to Christmas! – Handel's Messiah has such a beautiful version of Isaiah 9:6! These children singing blesses my heart!🎵)